ABOUT

The technology revolution we experience today undeniably impacts society, establishes new global paradigms and affects our lifestyles and the way we experience things; it is changing how we do business, and how we look at Entertainment. As the world shrinks, we must cater to particular subcultures of audiences with very similar outlooks, styles and aspirations despite their different nationalities and languages.

Our starting point is the NEWDAWN Saga book series, a science fiction romance adventure that span time and space for young adults and the young at heart. This is a story about our future, taking place in 2098, where science and technology will have caused us to redesign ourselves. The NEWDAWN brand is a perfect transmedia project because it spreads into multiple areas: books, video series, TV series, Films, Graphic Novels and VR/AR game. See www.newdawnworld.net and www.newdawnworld.com for more information.

The future, our future is a compelling story both in fiction as well as in reality. While the fiction side appeals to the imagination of many, and totally captivates hard core science fiction fans, we also address through the brand other sectors. We bridge the gap between science fiction and science facts, addressing issues about our own future and that of the planet with a blog, podcasts and videos, discussing what is on the horizon for all of us. This is brought into focus by a creative visionary Dominique Luchart, the author of NEWDAWN and the founder of WindHorse. Our future is paved in the very present we live in, and consciousness about our actions is at the very core of our existence and that of our beautiful blue planet. See www.newdawnblog.com for more information.

Though content creators create their own world according to their vision, in today's market it needs to be a global one. A viable "product" like NEWDAWN rings a chord among the SciFi tribes, forming around the world that are more and more interconnected through technology in a very fragmented marketplace. This is the reason for the existence of the NEWDAWN Network, and the SCIA Media Network, connecting directly with our fans, and offering an exciting new way to become part of our stories.
---
OUR
Founded in 2000, WindHorse has a vision for a future that stems from the evolution of entertainment and technology. Excited about New Media and what it offers at its core, a direct access to specific fan base, this focus brings us to a Transmedia Brand capable of reaching our audience globally – all the dedicated and loyal science fiction fans.
At first, heavily involved in independent films, we have co-produced and seen direct involvement in 7 independent films that have found their way into distribution or garnered selections in various film festivals of renown. In previous years, the founders and key staff have worked on Oscar, Emmy and Addy awards projects.
In 2004, WindHorse became a member of UNESCO's Global Alliance for Cultural Diversity, which coincides with our global vision.
With its multicultural roots, WindHorse is positioned to structure its content as Canadian and European co-productions.
---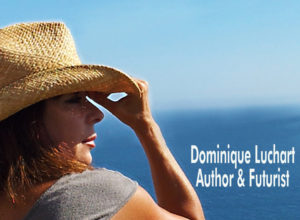 Dominique Luchart – Author & Futurist
Welcome To My Favorite Place As I Look Over The Horizon!
I love to watch what is unfolding over the horizon. The advances in science and technology, and the innovations discovered every day inspire me to write about the future. A future that is defined by what we do or don't…
In examining the Cosmos and looking at a world view of what surrounds us, the universe, the galaxies, the planets, the stars, the energy that silently moves through time and space, it is imperative that we see the interconnectivity we all have as we walk on this plane of existence.
We are here for a purpose. This purpose is different for each of us. I believe that we are HERE BY DESIGN. My purpose in this life is to provide a bridge between science fiction and science facts, and I can only execute this purpose by being conscious. Consciousness in the present paves the future, and in this cosmic tapestry we live in, my role is to shift perceptions about what our future holds… our species' future and our planet's future.
While some of my writing takes the shape of science fiction and fantasy in the NEWDAWN Saga, with www.newdawnworld.com and newdawnworld.net, there is a great part that belongs in the realm of the possible… And so, from science fiction to science facts is very much a part of what I also write about in www.newdawnblog.com.
In so doing, I belong to a movement which exists all over our planet… Those who keep tab on what the greatest minds of our time are working on… Those of us who attempt to bridge the gap of what we know and what remains hidden behind closed doors, or so far ahead of our time that we don't know it is even possible, and still we imagine it might be.
We are the creatives who envision what could be. We are the adventurers who explore the edge of that world and report on it.
We are the watchers keeping an eye on the extremes and tell the stories.
We are the trailblazers unafraid to go down unconventional alleys, the igniters who adopt things first after we decide we like them, the agents of change who spread the word so others can try it too.
We are leaders who strive to inspire growth around us. Those who break through boundaries because it makes sense, even when the road ahead is tough.
We bridge the gap with the known and unknown at every turn, although it may seem boring to some and crazy to others.
We live in a world without a box. It is a part of our DNA. We belong to the huge machine that tallies the step of our evolution.
From the NEWDAWN Saga and the series of novels starting with NEWDAWN ROAMERS, which introduces the Center and the world of Ang City in 2098 to the blog that attempts to keep abreast of new discoveries in science and technologies, I write, give speeches, shoot videos, and do podcasts… anything to get the word out that our very future as a species depends on our present actions for the planet.
Join me on this journey! See you on the path ahead.